Access Review¶
Overview¶
Tip
A campaign is created when managers are requested to perform access review on their direct reports. It can also refer to a situation whereby role owners are required to review all user accounts having that particular role.
Note
In Welle, role owners are preferred over application owners for access review.
In most customers' deployments, the majority of campaigns are created for managers. In almost all deployments, there will be requirement to perform access reviews for few critical roles. e.g. finance roles in SAP systems. However, not all roles in an application are required to be reviewed. By assigning to a role owner, this provides greater flexibility.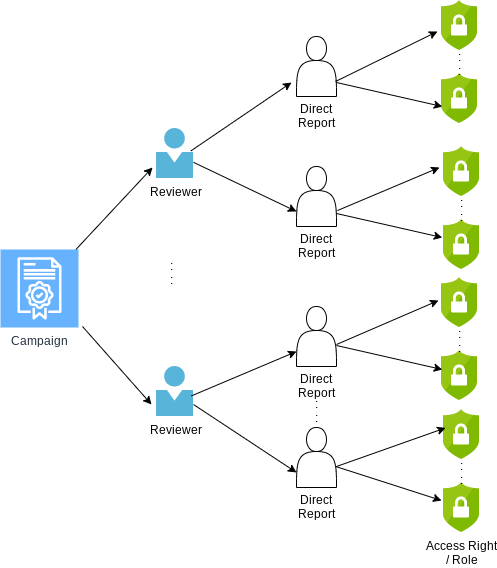 A campaign has 1 or more reviewers. A reviewer can be a manager or role owner.

A reviewer has 1 or more direct reports. An role owner will have everyone that have accesses to the role as his/her direct reports.

A direct report has 1 or more access rights. Access rights are commonly known as roles or user roles.
Workflow
When a reviewer is assigned to a campaign, he/she is said to be assigned tasks, which refers to acting on an access right, i.e. approving, rejecting or reassigning.

A reviewer can reassign a task to another reviewer, when he/she deems another reviewer to be more relevant to review the access right instead. This can refer to cases like secondments or temporary transfers.

The number of times a task is being reassigned can be restricted by administrator. It is recommended not to be more than 1.

A reviewer is expected to complete all tasks before the campaign due date. The campaign due date is defined in weeks by administrator during campaign creation. Reminder emails can be defined and sent to notify reviewers to complete all tasks before due date.

The maximum number of weeks for campaign due date is 12 and can be restricted by administrator. It is recommended not to be more than 4 weeks.
Note
A role owner cannot reassign to another role owner.
Campaign Status¶